I think Legos were invented to make mothers feel insane. Especially when they are stepped on.
Perhaps one could say that tiny Lego blocks with sharp edges under my feet takes a bit of the joy out of motherhood. ;)
A few weeks ago, I had a mommy-meltdown of sorts. The older kids had pulled out ALL of their bazillion Legos and proceeded to build a city rivaling the size of Los Angeles…..right at the bottom of the steps.
Unintentionally, I became the King Kong of said city on my way down to do the laundry. What followed was a frustrated outburst that ended with "…..and that is why I'm going to put all the toys in black garbage bags until we forget about them."
Clutter. My worst enemy. After the devil, of course. But the overload of "stuff" we have doesn't start and end with the favored small colored blocks. It's SO easy to accumulate things that we don't even need. It just happens unless we stay on top of it every. second. of. the. day.
My husband recently took a pastoral job in a town about 5 hours south of where we are now. In less than 6 weeks, we will be saying goodbye to a community full of people that we love, cherish and wish we could take with us.
What I don't want to take along when we leave? Our drawers, boxes, closets and garage full of stuff.
I don't want the current problem clutter has caused: the inability to manage everything and keep it clean. No matter what I do, what organization system I try to implement, it doesn't fix the root of the problem, which is that we have just too much stuff.
What does clutter have to do with joyful motherhood? Because if the surfaces of my home are always covered and the drawers are unable to be closed then all of that stuff is stealing away the time and energy I want to use on nourishing and caring for my family instead. And when I'm stepping on toys and not able to find what I'm looking for because it's buried in a big pile, it stresses me out and gives me a crabby countenance! Maybe the same feelings have affected you as well!
As I've been learning how to rediscover the joy in motherhood, one of the conclusions I've come to is that there are so many items that don't deserve a place in our home. I want to enjoy my kids without worrying about too many toys or piles of laundry getting under my feet. It's good for our mental focus and emotional health too!
Moving is an excellent time to purge your lives of physical things that clutter it up (and maybe even letting go of some mental and emotional clutter in the process). But anytime is a good time! Honestly, though, I did not know where to start. I just knew I wanted to do it and that I wanted my efforts to last beyond my crazy purging moments!
I've read through several books and in the past took an online course in decluttering and I wanted to share a few tips I've learned that hopefully will help you declutter so you can enjoy being a mom more often!
7 Helpful Tips to Help You Begin Decluttering Your Home
1. Realize that it will take you a long time to declutter your house. Getting rid of what you don't need takes time. It isn't a one-and-done event, though I wish it could be. I've found that after I've gone over an area (like my daughter's bedroom), I'll return two weeks later and see more that we can let go. As long as you are realistic about it, the process won't seem so overwhelming.
2. Recognize your stumbling blocks. If you or your spouse keep items solely because of sentimental value, find a way to deal with that mentally and emotionally. For instance, when my kids want to keep every piece of artwork, I hang their favorites up on our bulletin board and then take a photo of the rest. I store those images by child in an app called "Artkive", so they can look back at what they've made without the physical clutter. I've done the same with things my husband and I have had a hard time parting with, such as trophies from high school or even scrapbook pages.
3. Enlist an accountability partner (or group). Find some friends who want to declutter too and work together to hold each other accountable! Or read a great book that moves you step by step through the process! One of the most helpful books I've read is 31 Days to a Clutter Free Life. I didn't go through all the exercises in 31 days, but I moved through it in a slower way that allowed me to accomplish the tasks as time allowed.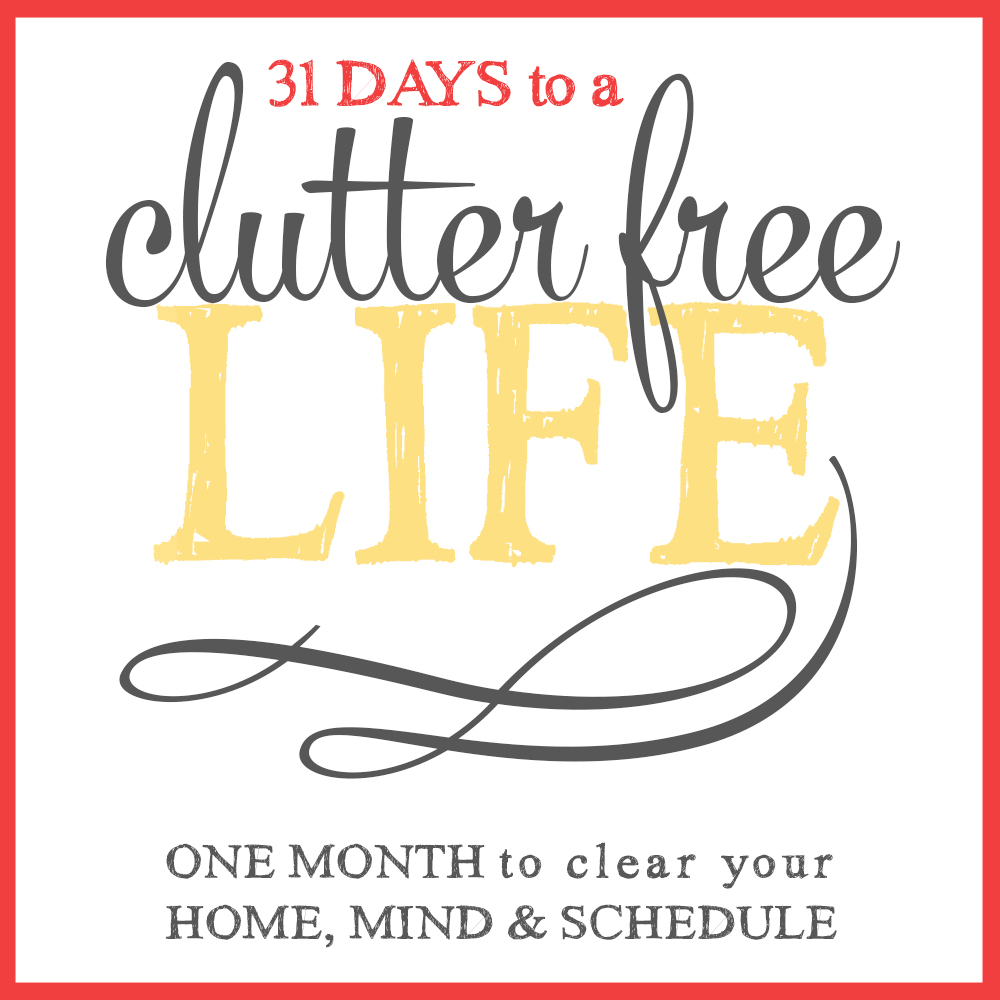 This is what I've done in the past few days (bags & boxes piled on top of our patio table)–lots of things ready for a garage sale and/or to pass down to friends! I also dropped a bunch of stuff off at the thrift store (not pictured) that was just from three bedrooms!
4. Give yourself attainable challenges. Maybe you want to go room by room for 5 minutes a day. Or 10 minutes. Set a little timer and just go! Put on a video for the kids if you want to do a 20 minute session. But I'd say stick with a small goal for time so you don't get overwhelmed.
5. Ask yourself helpful questions as you are decluttering. Have I used this in the past 6 months? Can I easily replace it if I need it again? Have my kids outgrown this toy and could it be enjoyed by another child?
6. Declutter the toys yourself. I love my children dearly and although I would never make them part with very special toys (my 3 year old just asked me if we could bring his "Lamby" when we move) :) I have tried decluttering toys with them and it just. doesn't. work. I've only begun this process and I need to be more ruthless, but sometimes slow and steady wins the race!
7. Give yourself grace. It is hard to let go of things we've become attached to for one reason or another. That special glass vase someone gave us for our wedding that isn't practical anymore. The baby clothes we still have tucked away as a remembrance or kitchen utensils we paid a lot for at a home party but have never used. I've found it helps me to go through each room multiple times. I cull a little more each time I pass through and it gets easier.
Don't feel overwhelmed as a mom when you look at all there is to do! Don't let clutter keep you from enjoying motherhood!
(Oh, and the toys I threatened to put in plastic garbage bags in the garage? I didn't have to do it–my kids have never cleaned up faster! ;) )
My All-Time Favorite Resources for Decluttering and Simplifying Your Life
I have read and loved all of these books! Just click on the picture to learn more!
Unstuffed by Ruth Soukup is an encouraging, simple and grace-filled approach to uncluttering your home and heart.
So happy to have my copy, hot off the press! :)
WANT TO SPEAK WITH GRACE TO YOUR KIDS INSTEAD OF YELLING?