Did you know that you can say and do the right things, look the part and play the role, but all the while be an imposter?
We tend to think of the hypocrite as anyone but ourselves.

 

However, do we ever take a look within, reassess our hearts and attitudes, and possibly see the hypocrite in the mirror before us?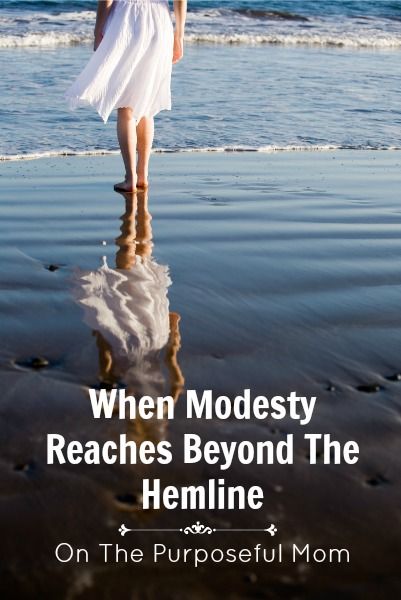 Modesty is not just a style of dress. Modesty comprises a virtue affecting our appearance, our speech, our minds, and our hearts. By being modest in only one or two of these areas but negating the others is in its essence falsehood.
"You shall love the

Lord

your God with all your heart and with all your soul and with all your might." Deuteronomy 6:5
Would it not appear to be highly inconsistent if a woman dressed modestly but then her speech was crude? If she were to strive for purity in every outward area but complained regularly about the cruelty of such a restriction, would it not seem odd that her heart was not behind her strict standards? If a woman dressed and spoke with the utmost piety, but then judged others harshly for not attaining to her spiritual maturity, would this not only turn those people away from her and the God she claims to follow?
We ought to be very careful and purposeful as women the messages we are sending and the example we are leaving.
Being Consistent For Our Husbands
When we are consistent in our modesty (in dress, speech, 
mind and heart), it is a safeguard for our husband's soul.
We can instill a sense of security within 
our husbands as to our dedication both to him and the protection of our 
marriages.
We can shield our husband from jealousy and protect ourselves from wandering eyes. This is an important step in also keeping ourselves from sin.
If you have an unbelieving husband, your modest spirit may be one way that the Holy Spirit reveals the love of God to your husband's heart and draws him to salvation. 
Being Consistent For Our Children
I cannot stress enough the importance of sending a 
consistent message to our children in every area of our training with 
them.
Hypocrisy in parenting only leads 
children further from Christ, not toward Him. 
Joel Beeke, author of
Parenting By God's Promises
puts it this way,
"Children are not looking for perfect parents, and they are remarkably forgiving.

 

They have an uncanny way of knowing who their parents are and what they stand for.

 

It is hard to keep secrets from anyone when we live under the same roof.

 

Children are always reading the books of our lives. Besides the Bible, the way we live our faith from day to day is the most important book our children will ever read. What children need to see is not a perfect mom or dad … but an unwavering commitment to Jesus Christ." 
What "book" is your child reading in your life?
Maybe you allow them to dress however they desire but are strict in areas of speech and require they wear purity rings, all the while never teaching their hearts why modesty is important for the whole person.

 

Maybe you are on the other side of the fence and you implement a strict dress code but you yourself are quick to put others down and allow your children to speak the same way.

 

What legacy are we leaving our children when our messages do not align?

  
It is our goal to lead our children to Christ through His Word, not confuse them and muddy the waters they tread on their journey to His cross. Our hope is that we make it easier for our children to hear the Holy Spirit's call unto salvation, not stirring them to rebellion by our own actions.
Being Consistent For Others
The Church has done a poor job in recent years, I believe, 
particularly in the U.S. of sending a consistent message to society of who God 
is and what His Word says.
When we hear the common stereotype of Christians is that we are all just a bunch of hypocrites, that should make us take a step back and reassess.

 

What are we doing wrong that is portraying such a message?

 

Often times it is because we require a standard of the world which the world is not equipped to meet.

  
We forget that God's standards are for God's people, and God's people can only meet God's standards through God's power.

 

Any convictions we come to and any convictions we follow are not of our own making, but of the Holy Spirit through us.

 

When we judge the unconverted for not acting converted then we are just being fools.
When we are inconsistent in our own actions, and also judge others for a lack of conviction in their own lives, hypocrisy thrives, our witness is crushed, and the God we preach looks rather impotent.

 

We must be so careful to strive for consistency according to God's Word so that the sweet smelling aroma of the Gospel will spill forth through our words and deeds.
A Word On Modesty

   
"I appeal to you therefore, brothers, by the mercies of God,
to present your bodies as a living sacrifice, holy and acceptable to God, which
is your spiritual worship." Romans 12:1
As women we can be consistent in our conviction to be modest. We can regularly reassess our dress, our speech, our minds, and our hearts and ask God to show us where in these areas we are weak. Let's pray that the Holy Spirit will aid us as we follow His leading.


https://thepurposefulmom.com/wp-content/uploads/2022/11/pennant-1.jpg Stomberg is a pastor's wife and loving mother to three little
blessings living in Tennessee. Reading, sewing, and crafting
are a few of the things that https://thepurposefulmom.com/wp-content/uploads/2022/11/pennant-1.jpg enjoys doing when she is not
cuddling with her hubby or playing with her children. https://thepurposefulmom.com/wp-content/uploads/2022/11/pennant-1.jpg is
cataloging her journey to become the Proverbs 31 woman on her blog, Road to 31. Grab a cup of coffee and join https://thepurposefulmom.com/wp-content/uploads/2022/11/pennant-1.jpg while she blogs about the Bible,
natural living, marriage, homemaking, homeschooling and more!
WANT TO SPEAK WITH GRACE TO YOUR KIDS INSTEAD OF YELLING?