"Now to Him who is able to do exceedingly abundantly above all that we ask or think, according to the power that works in us, to Him be glory in the church by Christ Jesus to all generations, forever and ever. Amen." Ephesians 3:20-21
Did you catch that phrase in the verses above? It says, "exceedingly abundantly above all that we ask or think!" This is what God is able to do! 


Exceedingly means "very, extremely, to a great degree, exceptionally". Abundantly means "plentifully, present in great quantity, oversufficient, richly supplied". 


What are the circumstances in your life that clutch at your heart today? Are you sorrowing, rejoicing, hoping in or desiring something that seems far beyond your reach? Cast your cares on the Lord. Give over to Him that which is dear to you and let Him work His will in an amazing way. He is able, more than able, to richly supply us to a great degree with what we need, right when we need it. 


Yes, it is at times hard to trust! But we can cling to the truth that "the Lord will perfect that which concerns me" (Psalm 138:8).

I loved this portion of Matthew Henry's commentary on Ephesians: "There is an inexhaustible fulness of grace and mercy in God, which the prayers of all the saints can never draw dry. Whatever we may ask, or think to ask, still God is still able to do more, abundantly more, exceedingly abundantly more."
How can I pray for you today?
Shared at:  
Good Morning Girls
Mom's Mustard Seeds 
StoreHouse Wife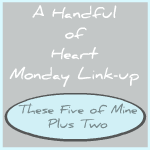 WANT TO SPEAK WITH GRACE TO YOUR KIDS INSTEAD OF YELLING?