We've very much been enjoying the great Scriptural truths in Truth in the Tinsel as well as the crafts! We're doing only the characters this year since I didn't have time for one craft each day.
Yesterday, which was day nine, we made Joseph in the same fashion as we made Mary on day five.
One of our Joesph ornaments looks suspiciously like Jolly Old St. Nick, but I digress. L likes faces on her "ornament people" while W prefers a "Willow Tree" look for his :)
I loved the opportunity to look at the story of Joseph from Matthew chapter one. I asked the kids how they thought he felt when he knew Mary was having a baby. W (who is almost 7) said "embarassed" while L (4) said "surprised". We figured he was probably a bit of both!
What stuck out to us about this lesson is that Joseph was a righteous man by faith who God chose to raise Jesus in his home, even though it was very hard for him to see that at first! As I've been learning lately, the ways of God are most certainly higher than ours.
I hope and pray that you and your family are enjoying the richness of God's Word through this Advent devotional! Remember to share your photos over at the official Truth in the Tinsel Facebook page!
__________________________________________
It's not too late! Buy your copy of Truth in the Tinsel today! Remember that you can use code PURPOSEFULMOM for 20% off!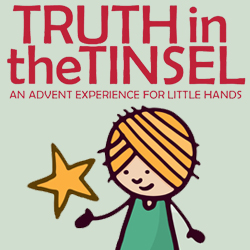 WANT TO SPEAK WITH GRACE TO YOUR KIDS INSTEAD OF YELLING?