I should have known something would get in the way of actually following Truth in the Tinsel to the letter! :) Yesterday we had a sick daughter and a teething baby who wouldn't nap. So we had to forgo yesterday's Gabriel craft for now and move on to Mary!
We had so much fun
making day three's craft Zechariah
and now Mary, creating a little pink and purple dress for her while reading the account from Luke about the angel telling her she would have a baby!
It was a bit hard to explain what "virgin" and "I have not known a man" mean but I told the kids that her being pregnant in her circumstance was impossible and could only have been done by God! That'll do it for now.

L loves to model the little ornaments we make, so here she is showing her Mary doll. I'm not sure yet if we'll hang up the ornaments since we're just doing the "character" ornaments this year or if we'll just play with them and recreate the Christmas account or what. But I did finally get the Advent paper chain up yesterday evening. We just attached it to the pine garland that goes up our stairway. Basically you remove one piece for each day after the kids guess the Bible "clue" written on the inside that goes along with the story!
Have you been enjoying Truth in the Tinsel? How would you explain Mary's "situation" to your kids in an age-appropriate but truthful manner? I need some advice!
I hope you'll join us tomorrow when we talk about Mary and Elizabeth and add them to our ornament collection!

It's not too late! Buy your copy of Truth in the Tinsel today! Remember that you can use code PURPOSEFULMOM for 20% off!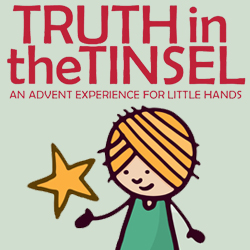 WANT TO SPEAK WITH GRACE TO YOUR KIDS INSTEAD OF YELLING?