If you want to stay in God's Word this summer, here are some ideas for summer Bible study plans and Bible learning ideas for kids!
I think summer is a great time to get back into the habit of doing devotions with your family or just simply introduce a new Bible-based resource to your kids!
Summer Bible Study Plans for Kids and Families!
1. GoMinno 5 Minute Devotionals
GoMinno, an online streaming service and website that has great resources and videos for Christians families, has created 25 five minute devotionals that you can subscribe to via email. They are short videos with questions about Scripture related topics. Sign up on this page!
The five-minute devotionals are a free resource, but I did want to mention that if you want to stream great Christian TV shows (321 Penguins, What's in the Bible, etc), GoMinno costs only $7 a month (so in other words, the price of one fancy coffee drink, at least in 2022 😅 )!
It's a great resource for many solid biblical videos and devotional resources. You can stream it on any device and it's perfect for on the go as well because you can download the app and watch the videos on your phone, etc while traveling.
Check out more information on GoMinno and try it free for one week!
2. Focus on the Family Summer Resources
Focus on the Family Summer Adventure Kit – A free "around the world" Biblical adventure for families! Download it here!
You can find ALL family summer resources from Focus HERE!
3. Summer Bible Verse Learning and Bible Study Ideas
God's Word in My Heart – My Scripture learning guide with memory verses! Great for kids ages 18 months to upper elementary.
Available in four translations of the Bible – click here for more info!
The Dig: Proverbs – Biblical lessons on the Book of Proverbs
Developing a Quiet Time – Help your kids learn how to have their own quiet time based on what God tells us in the Bible about meditating on His Word–my 10 year old loved this study! It teaches your child a Biblical technique for having their own devotional time and comes with Scripture cards and other prompts.
Olive Tree Bible App– Book of John plan for kids plus many others to choose from for the whole family.
Ministry to Children – Free Bible lessons for kids–all kinds!
The Lord's Prayer Mini Book – A fun way to teach your little ones this important prayer from the book of Matthew.
Minding Your Mouth: A Biblical Study of Taming the Tongue is a 10 lesson Scripture study that I wrote for families that is best enjoyed by kids ages 5-12!
31 Days of Drawing Through the Bible from Susan Evans – she always has great ideas for getting kids engaged with Scripture!
Learn the books of the Bible using Legos! From 123 Homeschool for Me
We are not Mormon, but I like this idea of remembering and practicing Scripture verses using kickball!
Why not make a Bible based comic book with these free templates?
Download printable Kids' Bible Reading Plans, from right here in our shop.
Print out the words to these Bible songs and teach them to your little ones with this free printable from Wildflower Ramblings. Such a fun idea for my toddler!
Use these I Can Talk to God printable prayer cards to help your toddler or preschooler learn to pray.
Here's a fun creation activity pack for teaching younger kids about the 7 days of creation!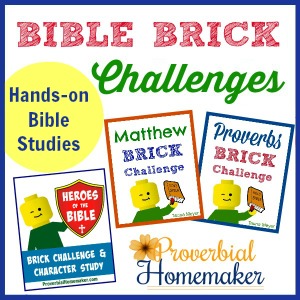 Bible Brick challenges – We did the hands-on challenge with our Legos last summer and loved it! My friend Tauna at Proverbial Homemaker created these Scripture based brick building challenges where your kids can build an object or person to go along with Biblical accounts. Matthew, Proverbs Heroes of the Bible and more are available.
As a craft for yourself and your older kids, make some books of the Bible tabs! (From my favorite Catholic blogger, so just remember for those of us that aren't Catholic that there are 7 extra tabs in her printable that you won't need ;) )
I love this printable 31 Days of Bible Verses for Tweens!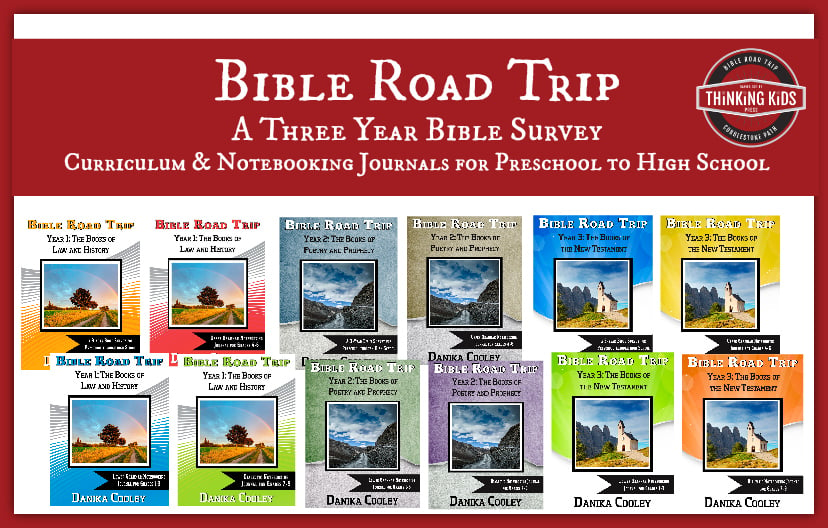 Bible Road Trip – Just what it says–a fun and adventurous journey through every single book of the Bible, designed for all ages! I love what my friend Danika has created, she has a heart for family ministry and is doctrinally solid, which is incredibly important to our family!
4. Audio Resources for Learning About Scripture and Biblical Lessons
For traveling or quiet time, we listen to:
We also love Scripture music!
Check out this post for our favorite Scripture albums for kids (that won't drive parents crazy!)
On the go, our kids use portable DVD players if they want to individually listen to certain CDs. Adventures in Odyssey is too mature for the 5 year old, but fine for the older two kids, for example.
So we give them a pair of inexpensive headphones (the $7 or so set on this page at Amazon) and have two portable players. This basic one we own from Sylvania has held up really well and is inexpensive! There are very few companies that make portable DVD players anymore.
Audio Stories from Adventures in Odyssey
We have transferred our Adventures in Odyssey audio stories from CDs to our ancient iPad for listening on the go–that thing is still holding its own after eight years! :)
We also subscribe to AIO Club – the Adventures in Odyssey subscription service which has an app you can use to listen to audio stories anywhere.
Which summer Bible study idea would your family like to do this year?
WANT TO SPEAK WITH GRACE TO YOUR KIDS INSTEAD OF YELLING?