I am not what people would call artistic. And I don't have an eye for decorating.
If someone would just take my hand, walk me through Hobby Lobby and tell me exactly what I need and where to put it, they will have my eternal gratitude.
But I really wanted to add to the large blank wall above our living room couch by adding some photos and other items to make a gallery wall!
After scouring Pinterest for weeks deciding on the perfect design for said gallery wall, I finally took the plunge and made the it happen.
It's more of a mini gallery wall, because I wanted to mostly work with what I already had and wanted to keep it simple in case I'd like to change it out in the future. Hanging items for this gallery wall wasn't really as difficult as I thought it would be, just a little time consuming! Thankfully I had help from my husband!
If you want to create your own gallery wall, but don't feel that you are super creative or artistic, here are a couple of tips you can follow that can help make this type of decorating less intimidating!
I am no expert at ALL, but this is what worked for me.
Start in the middle and build outward.
Pick a piece that you want to be the "focal point" in the middle, something that ties together everything else. I've seen this be a large object on some people's wall, but others I've seen just display a special saying or the first letter of the family's last name.
I choose a wall hanging that I found at Hobby Lobby with a Bible verse that is kind-of a "theme" for our family!
Lay it on the floor and then place your other objects around it.
Two things that will make your gallery wall look pretty:
Use an odd number of objects if you are doing a staggered look
Either match up the interior corners or the exterior corners of the objects you are hanging (to the best of your ability). As you can see, I tried to line up the interior corners. If I'd lined up the exterior corners, the finished product would have looked like a square or rectangle.
Instructions for Hanging
After you have designed them on the floor, hang your focus object in the exact middle of the space. I didn't hang it in the middle vertically (we have vaulted ceilings) but I did horizontally (middle of the couch). I also hung it at the eye level of a person who is about 6 feet tall. I am 5 feet 2 inches, so hanging it at my eye level would mean people would be looking down at it–ha!
To hang objects spaced properly, decide how far apart you want each object and try to hang them the same distance from the middle object (which should be hung first) and from the objects above and below them.
Then, as you can see in the above photo, the bottoms of your top objects will be matched up and the tops of your bottom objects will be matched up as well (say that 5 times fast!).
We measured the space between objects with a ruler to keep them equidistant and then used a leveler to be sure we were hanging them straight. Hang with strong nails or mounted screws if the objects are heavy.
We had a "helper" the whole time ;)
Honestly, sometimes you have to redo it. And sometimes you have to just eyeball on some spots if you have an oddly shaped object, like the arrow.
The end result, though, will be something you can enjoy! These tips will help guide you in the right direction, and if it isn't perfect, that's ok!
In my opinion, making the gallery wall a "mini" size kept me from being intimidated or committed to keeping the same large amount of objects and photos from hanging on my wall for the next 15 years!
Here's the final result:
My favorite part was finding that beautiful wooden arrow to match the coral in my pillows on the couch–LOVE!! Speaking of that arrow….
I got this distressed arrow from an amazing lady who designs, builds and paints her own signs, pennants, and wood arrows, hand-tailored for your home. Her name is Melissa, she's from Minnesota and she has an Etsy shop, Melissa Anne Company, where she sells these beautiful creations.
She's about to close up her shop for the year, but today only, you can snag some pieces from her Christmas collection, like this unique wooden Joy sign: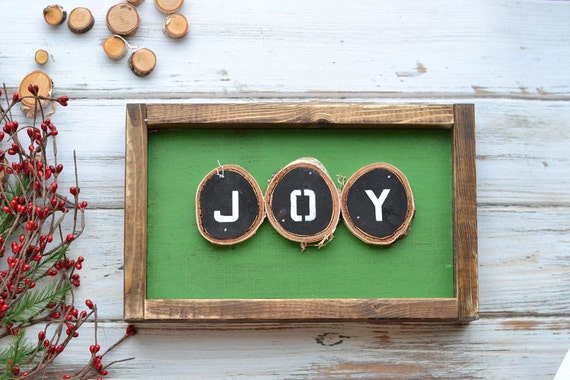 Or one of these handmade house signs….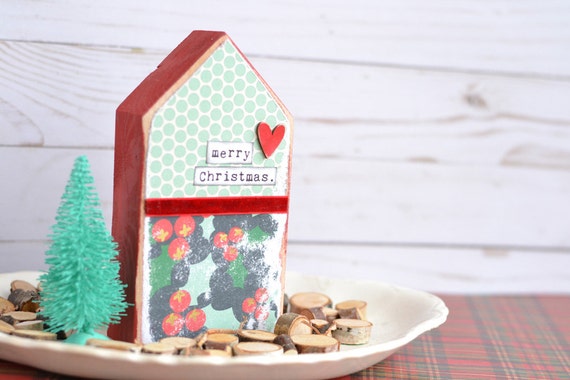 Seriously, RUN over to her Etsy shop–she'll deliver much before Christmas! I so love supporting small businesses and seeing women use their gifts to bless others!
You can also request custom orders, and when Melissa reopens the shop in the new year, she'll have the opportunity to create wooden arrows in just the perfect color for your room walls, just like she did for my living room gallery wall!
If you want to keep up with Melissa and see her new handmade items as they become available (and these are snatched up SO quickly when she releases new products), follow her on Instagram (after you visit her Etsy shop of course)!
I hope my tips helped you have confidence to make your own gallery wall that's perfect for your space and that you consider ordering one of Melissa's handmade goods to hang in that space too! Have a blessed Christmas season!
WANT TO SPEAK WITH GRACE TO YOUR KIDS INSTEAD OF YELLING?