We're pretty picky when it comes to the TV shows and other media we choose for our kids. There aren't too many shows we let our kids watch, even our 10 year old. While we watch some secular programming, if possible we like to choose solid Christian videos and media for our four children!
I realize this might seem "old school" but with all the garbage on TV, I'm finally realizing why my parents were so particular with what they let us watch when I was a kid (and I'm thinking the shows weren't nearly as bad as they are now!). 
We know as parents that our children need to understand that there exists both good and evil, but feel it's not necessary that they're exposed to material that's too mature for their level of understanding.
Every person might arrive at a different "level" of what they allow via media in their homes, but I think it's safe to say that most of us as Christian parents want to protect our children's minds and hearts.
Last fall, we began looking for different options rather than Netflix for our children's programming. A few of the shows were okay, but as our kids get older and want more access and independence in choosing their own programs, we started looking for different streaming options that we'd feel better about them watching on their own time.
The Best, Dedicated Resource for Christian Kids' Streaming Media and Videos
On a whim, I signed up for a special on a one-year subscription to JellyTelly. Wow, was I ever impressed!
JellyTelly was started by VeggieTales® and What's in the Bible? creator Phil Vischer. Several years ago, Phil realized that it was time to step back from VeggieTales and focus on creating programming that teaches children and their families the Bible from Genesis to Revelation in an engaging way. From this came What's in the Bible, which we became familiar with a few years ago.
Now Phil Vischer and the JellyTelly team are working with the best voices in Christian family entertainment to continue to provide new and classic shows for everybody to love.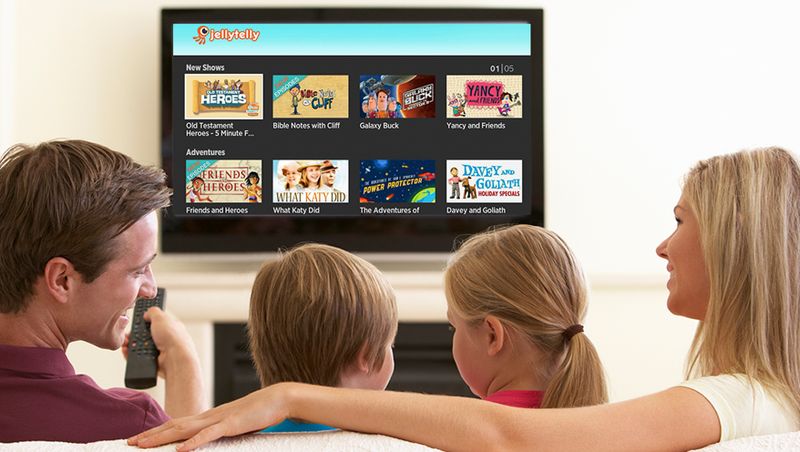 What I like about JellyTelly specifically is that not only do they have full seasons of shows like 321 Penguins and Davey and Goliath but they also have safe, Bible-based games my kids can play during their media time and (our favorite) a weekly devotional that is sent directly to your email address (example below).
They also have musical sing-a-longs from What's in the Bible and others! We like this as an alternative to always watching a video, which is the only option we had with other streaming services.
For the whole family, JellyTelly has 25 five-minute video devotionals to help you jump-start your devotional time and grow together. They also send out via email a weekly family devotional that has a verse and activity for each day on a theme.
Some of our favorites from JellyTelly are:
What's in the Bible (engaging videos, singing through the Bible and devotionals covering Genesis through Revelation)
Sugar Creek Gang and Last Chance Detectives, adventures based on book series for kids ages 8 and up
Jesus Storybook Bible, animated version, which we've used for Sunday School sometimes as well
321 Penguins
Bible Notes with Cliff
Seeds Family Worship music videos
Gigi, God's Little Princess 
Owlegories (the tune is catchy, so watch out! Ha!)
Our kids range in age from 2 1/2 to 11 and there is really something for each age range, all the way up through high school :)
You can see in detail what's available at this link when you sign up for a free one-week trial!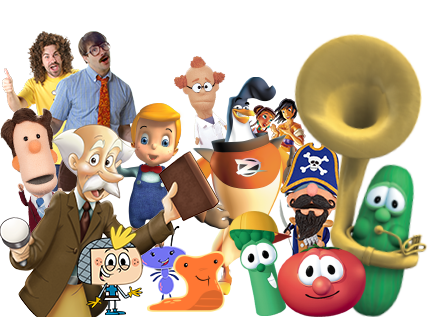 JellyTelly on Roku
The new Roku Channel JellyTelly just came out with works SO much better than the previous one. Yay! Details on that below.
How Can You Access JellyTelly?
Now you can stream your other favorite Christian shows for kids directly on your TV with a Roku device plus they also have an app for Apple TV – plus you can still take JellyTelly with you wherever you go with the mobile apps! 
Join JellyTelly and get:
✓ 300+ hours of shows including VeggieTales® and What's In The Bible?
✓  25 video family devotionals about Bible heroes
✓  An Old Testament Heroes Activity Pack to download and print
✓ iOS, Android, and Kindle apps – plus a brand new Roku channel!
✓ Blogs and resources to help your family flourish
✓  A 7 Day Free Trial
Only $4.99 a month!
Do you NEED another streaming service? No. But I truly believe we need BETTER streaming services that provide our kids with educational and entertaining materials that won't compromise our values and faith.
So far, JellyTelly is the only thing out there that is specifically for kids and families that fits the bill, giving us the chance to replace some of our previous streaming services with something better.
Plus, it has much more than just movies and TV shows. With the devotional content, games and music, it far exceeds the value of secular streaming services.
The point of using any kind of Christian media is to supplement learning the Scriptures directly with your kids.
We don't use these videos replace family devotional time, but rather use it to introduce biblical concepts that we haven't yet talked about, provide a fresh idea or just have a fun time growing in our faith together :)
You can also email me at jenn at thepurposefulmom dot com, I'd be happy to answer any questions!
WANT TO SPEAK WITH GRACE TO YOUR KIDS INSTEAD OF YELLING?