Hi all! I'm super excited to tell you about some audio adventures that our kids were recently introduced to and are loving–and I KNOW your kids will love and benefit greatly from them too!
These audio adventures are thrilling to listen to and give your children tools and examples to help them cultivate a Biblical worldview and know how to talk to others about Jesus and evidence for creation!
If your kids are like mine, they learn so well through stories. Think about how the Bible is structured: it is a true story that follows the path of history, with exciting cliffhangers, poetic songs, happy endings, dramatic rescues, and a climactic conclusion that took the world by surprise.
That's why I wanted to share one of our new favorite resources—Jonathan Park Audio Adventures!
What are Jonathan Park Audio Adventures?
A friend had mentioned Jonathan Park to me a few years back, but I didn't take the time to borrow her set of the adventure stories. I wish I had!
We were recently sent the Series One Pack to try with our family, which has over five hours of action-packed entertainment as we follow Jonathan Park, his sister Katie and his parents through daring situations.
Though obviously many are a stretch of the imagination (in episode 4, Jonathan and his family end up stranded by Roswell, New Mexico with a UFO cult–the 10 year old was all over that one!), the dramatic twists and turns of the story always bring opportunities for the characters to talk about — and teach– a Biblical worldview and how God's Word relates to our everyday life. The stories are based on real places and real people too.
A lot of the topics deal with "apologetics", or defending your faith. The kids in the series are also homeschooled, so they talk about that sometimes. My kids go to a Christian school and it doesn't alienate them to learn about that aspect of the stories.
They put forward some good talking points between characters on opposite sides and give good prompts that our kids can really use when talking to friends, teachers or others about their faith and why we believe what we believe.
Getting ready to run some errands while listening to Jonathan Park's African Safari! Sorry for the blurry picture :)
I love that the audio stories (which are not just audio readings of books, but "like movies for your ears", was the way a fellow blogger put it) are faith-building but also well made and exciting to listen to for the older members of the family. I'll be honest and say that my 5 year old got nervous listening to some of the drama, but it is absolutely perfect for our 8 and 10-year-olds!
My 10 year old, Will, said "I like listening to the cool stories. I knew a lot of the things they talk about, like that there's a Creator and how there are billions of DNA strands, but I didn't really know how to explain them before. Plus they're not boring." (I'm quoting him exactly, so that's how that goes) :)
Will "rescuing" a peanut butter jar from behind the fridge with his bonus paracord from the Jonathan Park Series One Pack.
Want to listen to a short sample?
They're not "cheap" but they fit within our one-income budget. I'm buying subsequent packs because I know that they're worthwhile and will entertain for years to come with our kiddos as they grow.
Those of you who read my blog often know that I am very picky with the materials we bring into our home. I am also frugal but believe in investing in materials that can be used over and over again. And these are stories your kids will probably want on while in the car, so they may as well be good ones! ;)
What ages would benefit the most?
I would recommend ages 7 and up to adults, guys and girls!
Ready to enjoy these audio adventures with your family?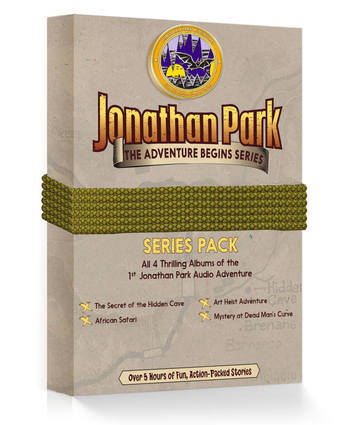 Any questions? Please feel free to leave them in the comments! Or share your own experience with Jonathan Park Adventure Stories!
WANT TO SPEAK WITH GRACE TO YOUR KIDS INSTEAD OF YELLING?