You may have noticed on Facebook a number of people (including myself) have been posting what they're thankful for each day of November. It's really been good for me to call to mind all the incredible blessings I have. Even the little things of each day combine to remind me of what a great, loving and mighty God we serve. A God who is able to do "exceedingly, abundantly above all that we ask or think" (Eph. 3:20).
I wonder though, once November has come and gone, whether I'll continue to purposefully remember and share the events, people and circumstances that bring me joy. More than likely I'll just go back to my complaining self–because it's much easier to comment or post or just think about what has "ruined my day" or made me frustrated or afraid. What about you?
As I was pondering this very thing a few days ago, I think God really sensed my need to have a grateful spirit that is constantly nurtured and cultivated and to be an example to my children as well.
Trying to teach my children be thankful for each other,
even amidst the craziness!
But how to do it? Is it just as simple as "reading the Bible" and I'll automatically have a bright and sunny outlook on every day? I was growing frustrated and didn't know where to start.
And then, that very same night, I got an email from my blogging friend Stacie from Motherhood on a Dime. She told me she had just released an eBook on (what else?) cultivating gratefulness in her heart and the hearts of her children.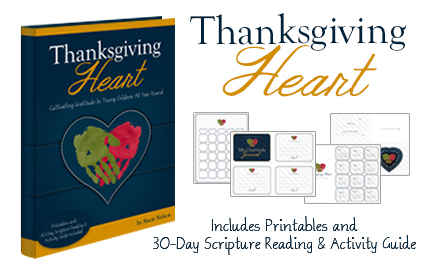 I was so excited! This has been on my heart lately and here were the encouraging words I needed, written by a momma who has learned, through many trying times, that a heart of thanksgiving is not defined by your circumstances. And this truth is especially important to my husband and I as we are learning to encourage a spirit of gratitude in our children!
The Word of God is my absolute source of comfort and strength (and the Psalms are packed with verses of praise and thanksgiving)! At the same time, combining God's Word with some practical ideas and wisdom from another's heart is what helps me put into practice the things I have read in the Scriptures.
Stacie's book is called Thanksgiving Heart: Cultivating Gratitude in Children All Year Long. The price of the book is just $2.99! It's a very small price to pay for something that has really helped me gain new perspective on what a grateful heart really is, with a heavy emphasis on Scripture and practical tips for teaching your children thankfulness.
The book includes:
Practical ways to encourage thanksgiving in children.
30 service projects
15 gratitude discussion starters for families
Application questions at the end of each chapter.
Printable 30-Day Scripture & Activity Guide
Printable Gratitude Journal
Printable Thank You Cards
I hope you'll take the opportunity to gain some wisdom and use Stacie's simple, meaningful ideas to guide and train your children in growing a grateful heart! We live in a world of excess and entitlement and it's more timely than ever to teach our children a better way. Grab Thanksgiving Heart and get started doing this important task right away!
Blessings to you in this Thanksgiving season!
WANT TO SPEAK WITH GRACE TO YOUR KIDS INSTEAD OF YELLING?