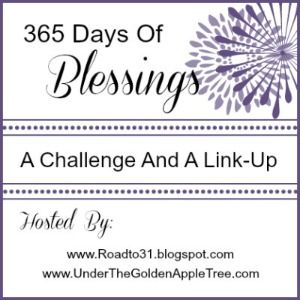 My husband lost his job this past month, and with it we lost our house.  We have three children, our fourth is due in June, and we have no impending employment prospects.  Needless to say this month we did not just cross a bumpy road.  We walked head first into a thunderstorm.

I am prone to depression.

 

When everything hit, I felt myself sinking into a very deep state of
depression.

 

I folded within myself and began to shut down.

 

I knew this feeling; I had experienced it many times before.

 

The anxiety and the darkness curled around me, and I felt as if the weight of the world rested upon my shoulders.
After four days of not even bathing and many tears, I stepped into the shower.

 

When I did I
felt as though God began to heal my heart and mind.

 

As I stood under the water, God flooded my mind with grace and mercy.

 

He assured me of His faithfulness, and challenged me to lean on Him and overcome my tendency to retreat.  As the weight lifted, I began to count my blessings.
Count Your Many Blessings
I believe God has laid it on my heart to count my blessings every day for the next year.  I also believe that God has laid it on my heart that I am not the only woman who needs this.  I am not the only one who is hurting, burdened, feeling abandoned, or depressed. 

Women are more prone to these feelings than are men, and I believe that women need to join together and not only share their common experiences, but encourage each other in the Lord.  When we hear other's testimonies of God's faithfulness and mercy in the lives of believers it provides us with hope and even faith in the face of our own trials.
I am hosting a 365 Days Of Blessings Challenge on my own blog, Road to 31, along with Richele from Under The Golden Apple Tree. 
This challenge is for any woman who is struggling and would like encouragement and support based in Scripture and Christian fellowship.
The goal is for women to be 
a blessing to one another through their own testimonies of God's faithfulness 
and those things that they have learned through God's Word about His Work and 
His Worth.
A FREE E-Book and A Link Up
There will be a Blog Link-Up beginning on April 1st.  It will be open the entire month and then will begin anew each following month. If you are a blogger, Richele and I invite you to link up your posts each month which pertain to this theme.  If you write on your testimony, God's faithfulness, or His attributes, we would love for you to leave a link. The goal is to have a source of encouragement and refreshment for those who are weary of trials and suffering. This is a
ministry, and we are asking you to both participate in it, and to partake from it.   There is an accompanying, FREE E-Book entitled: Your Mercies Are New Every Morning: 365 Days of God's Faithfulness. 

This E-Book will guide you through the 365 Days Of Blessings Challenge or can be used as a singular tool in personal Bible Study.  If you would like to acquire your FREE E-Book and also want to learn more about it CLICK HERE.

As I said before, this month we walked headlong into a storm of our own.  You may be suffering deeply or struggling to stay afloat.  It is only through Christ that we weather this world because we know this world is not our home.  For those in Christ, it is so necessary that we are nurtured by His Word, and it is such a blessing to be tended to by our sisters. Be a blessing by participating in this challenge and pointing others to Christ.  Be blessed by hearing the Word and seeing the faith of others.
https://thepurposefulmom.com/wp-content/uploads/2022/11/pennant-1.jpg Stomberg is a pastor's wife and loving mother to three little
blessings living in rural North Dakota. Reading, sewing, and crafting
are a few of the things that https://thepurposefulmom.com/wp-content/uploads/2022/11/pennant-1.jpg enjoys doing when she is not
cuddling with her hubby or playing with her children. https://thepurposefulmom.com/wp-content/uploads/2022/11/pennant-1.jpg is
cataloging her journey to become the Proverbs 31 woman on her blog, Road to 31.

Grab a cup of coffee and join https://thepurposefulmom.com/wp-content/uploads/2022/11/pennant-1.jpg while she blogs about the Bible, natural living, marriage, homemaking, homeschooling and more!  Catch Road to 31's latest series, "The Homemaking Pharisee: Living a 'Godly' Life With An Ungodly Spirit," on Mondays. 
WANT TO SPEAK WITH GRACE TO YOUR KIDS INSTEAD OF YELLING?