Here are some of our favorite Nativity crafts for Sunday school! These are all easy nativity activity ideas that are fun Christmas crafts for kids.
Sit down with your Sunday school kids and teach them the real meaning of Christmas with the birth of Jesus, wise men, and of course the classic nativity scenery.
These nativity crafts are great for young and older kids to fit in some time with Jesus through all the shopping, school parties, family gatherings, and more that take place during December.
Hit the pause button and create fun Sunday school activities that teach and focus on the Christmas story.
Why Do One or More Nativity Crafts for a Sunday School Lesson
Teaches the story of Jesus and the real reason for the season
Fun for children's church too
Holiday crafts that are more than just Santa Claus
Easy Christmas crafts when you're looking for unique ideas
21 Christmas Nativity Crafts for Sunday School
Want to capture tiny hands? If so this is a fun way to create Jesus in the manger with cut out hand prints and a baby Jesus swaddled up in the center. This is a simple craft that doesn't require a lot of extra materials to make. Find the manger template at the very bottom of the Handprint Nativity Craft post.
Grab some felt and glue and create these nativity ornaments you can hang on your Christmas tree, or even on a tree outdoors. These are simple nativity ornament crafts that are best enjoyed by older students, but even younger children can glue the pieces together with help.
Click HERE for the tutorial download.
Put on a play and make your own nativity scene with these DIY finger puppets. Kids of all ages can act out the Christmas story with these puppets.
I would recommend using these if you sew and can make them at home ahead of time. Then bring them as a gift for your students! Have them act out the story in class and then take them home, where they can provide hours of fun :)
Save your toilet paper rolls and let your young children draw and paint up the rolls. Use glue sticks to glue on the colored construction paper to create a fun set to play with either in class or home.
This activity might take some extra hands to help with younger children! But it's nice that the templates are provided, so all you have to do is print and cut out. If you do this before class it should save some craft time!
Here is a craft that can make a good take-home tradition. Just print and then then cut and glue to create a simple nativity story with paper. Glue it on to cardboard to help make your set more sturdy.
You can find the free template at Saving Dollars and Sense.
Here is an easy activity that any age can do. Simply color your chosen coloring page and teach about the true meaning of Christmas while they color. You can talk about Jesus' birth and all the characters in the Christmas story. Perfect for the Christmas season.
Find lots of good Nativity coloring page options at Coloring Home.
Print and have students color this cute Nativity "Headband" while you read the story of Jesus' birth from the Jesus Storybook Bible! Then they can cut the slits in the side and wear it as a "hat".
Check out this printable nativity that once colored, you roll and glue to make these fun dome-shaped characters. Then you can play with them or create the story and use each character to act out a part of this Christmas story about Jesus Christ.
Here is a Christmas craft project the class can do together. Create a gingerbread style nativity and let all the kids help build the nativity out of frosting, graham crackers, cookies and more. Little hands will love helping build this edible craft.
This would be best for church groups of kids who are a little older. It creates a simple but great craft idea to create a gorgeous Christmas nativity scene made from rocks and other outdoor items.
Good news is you only need a few items to make these clothespin ornaments. Grab the hot glue gun and supplies and let the older kids work on gluing together the ornaments. If you are working with little kids you will need to help them with the steps.
Sunday school classes will love using the white paper and transforming it with bright yellow paint to create their own take home baby Jesus in the manger art work. A good craft if you have most of a class period to work on it.
Here is a cut and paste craft that you will use a paper plate to set the story of the nativity scene. A wonderful craft to practice cutting skills for younger kids.
Don't miss the printable template link, it was a bit hard for me to find: as you scroll down the post, it is below the paragraph that says "before you go…" which is found after the step by step directions.
Grab some craft paint and let young kids get their fingers messy with this finger print manger holiday scene. Simple shapes to use as an outline, which is a great way to let little ones follow your steps.
Craft sticks and glue are the main items needed for this Christmas ornament DIY. Take it a step further and let the kids paint or glue on decorations on the sticks. An easy craft to try out.
Grab that card stock and trace and cut out to make a candy cane. Then you will have baby Jesus sitting in side it to look like a J for Jesus, and a fun paper craft to try out. I love Catholic Icing and have utilized a lot of her craft ideas over the years, both in Sunday school and at home.
Cut your paper towels or use toilet paper rolls to create this one. You will use burlap and felt to cut and glue this set together. Allow the kids to get creative to create exactly what they want.
This is a super cute ornament with baby Jesus wrapped up in the manger. The ornament is protected by a clear plastic cup. I think this would be a fun craft for older Sunday school kids.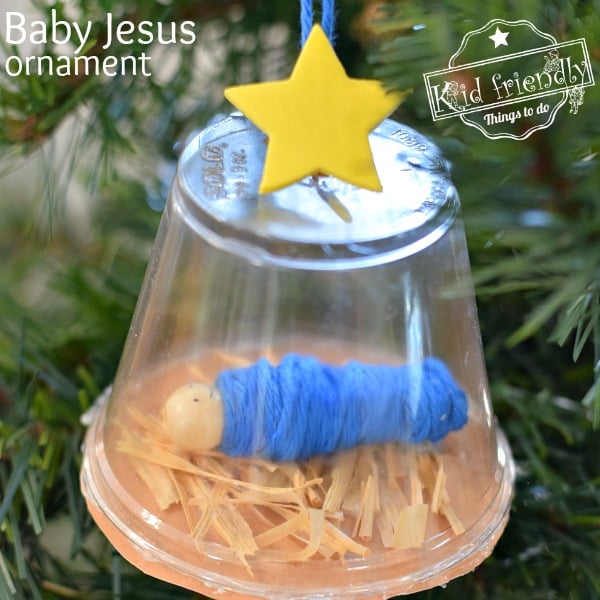 19. Stained Glass Nativity
Make this cute stained glass nativity (made with tissue paper!) to hang in a window either in the classroom or in the child's home.
If you have a good amount of time, you can do this paper plate manger craft. You can also split it into two Sunday school weeks, allowing the brown plate to dry at the end of the first class period and then finishing the craft the next Sunday.
If you need something SUPER simple, purchase a 12 pack of these sticker pack nativities from Oriental Trading Company  or Amazon.
Frequently Asked Questions
What is the meaning of nativity in the bible?
Nativity stands for "the birth of" and the "facts around the birth". So for this we are talking about Christmas time and the birth of the Lord Jesus and what Jesus would do for all of us, in providing eternal life through his death and resurrection. Jesus' birth was the most powerful moment in history and that is why it is talked about every holiday season–so we can remember the true meaning of Christmas.
What is the difference between Sunday School and Children's Church?
Sunday School is focused on children and teens. Sunday school typically takes place before or after the church service. It usually includes a structured lesson, music and craft time for younger kids.
Children's church typically focuses on younger ages and is usually going on during the church service. Kids go into a separate room and do Bible crafts, read stories, and create activities based around stories in the Bible. Sometimes little kids can struggle to sit through a service, so children's church was created to help children learn at their pace but also allow the adults time to focus on the Word without distraction.
What is another name for nativity?
The Christmas season is a great time to teach kids that nativity has other names. Birth, virgin-birth (for older kids), coming of Christ, Holy Night (like in the famous Christmas carol) and more. When teaching it is a great way to let them know there are other names you can use to refer to the birth of Jesus.
Try watching the video He's Here! from the Jesus Storybook Bible to help explain the concept of the nativity.
What other Christmas activities can I use in Sunday School?
You will find so many wonderful ideas on types of religious Christmas crafts you can create. From star ornaments to learning about the stripes on a candy cane, from toilet paper roll crafts, to paper plate angel projects. If you look on my Advent and Christmas Pinterest board you can find tons of inspiration for Christmas themed crafts that you can use in Sunday school for kids of all ages.
ONE LAST TIP! Use a Fisher Price Nativity to recreate the story in class!
I hope you've enjoyed these Nativity craft ideas for your Sunday school class!
Free Printable Advent Calendar Banner!