Need ideas for Valentine's Day Bible crafts for Sunday School? 
Here are 15 great ideas for heart-themed Valentine crafts for your classroom! You could use these for children's church as well.
Each craft idea is listed along with a Bible verse that teaches kids about God's love.
Use one of these heart craft projects with your lesson plan as a great way to share the love of Jesus with little ones.
There are ideas for both younger children and older children.
Sunday School Heart Crafts for Younger Children
1. Valentine's Day Bible Verse Bookmarks
I did this craft with our first grade Sunday school class last year and they loved it! After we did our Bible lessons, we put valentine stickers on foam bookmarks from Hobby Lobby (see them in picture below) and then glued these Valentine's Day John 3:16 bookmarks on the back to give away or keep for their Bible bookmarks.
Valentine's Day John 3:16 Printable Bookmarks
Go Along Bible Verse: John 3:16
2. Paper Plate Mobile Craft with Bible Verse
You can find this cute and easy craft HERE!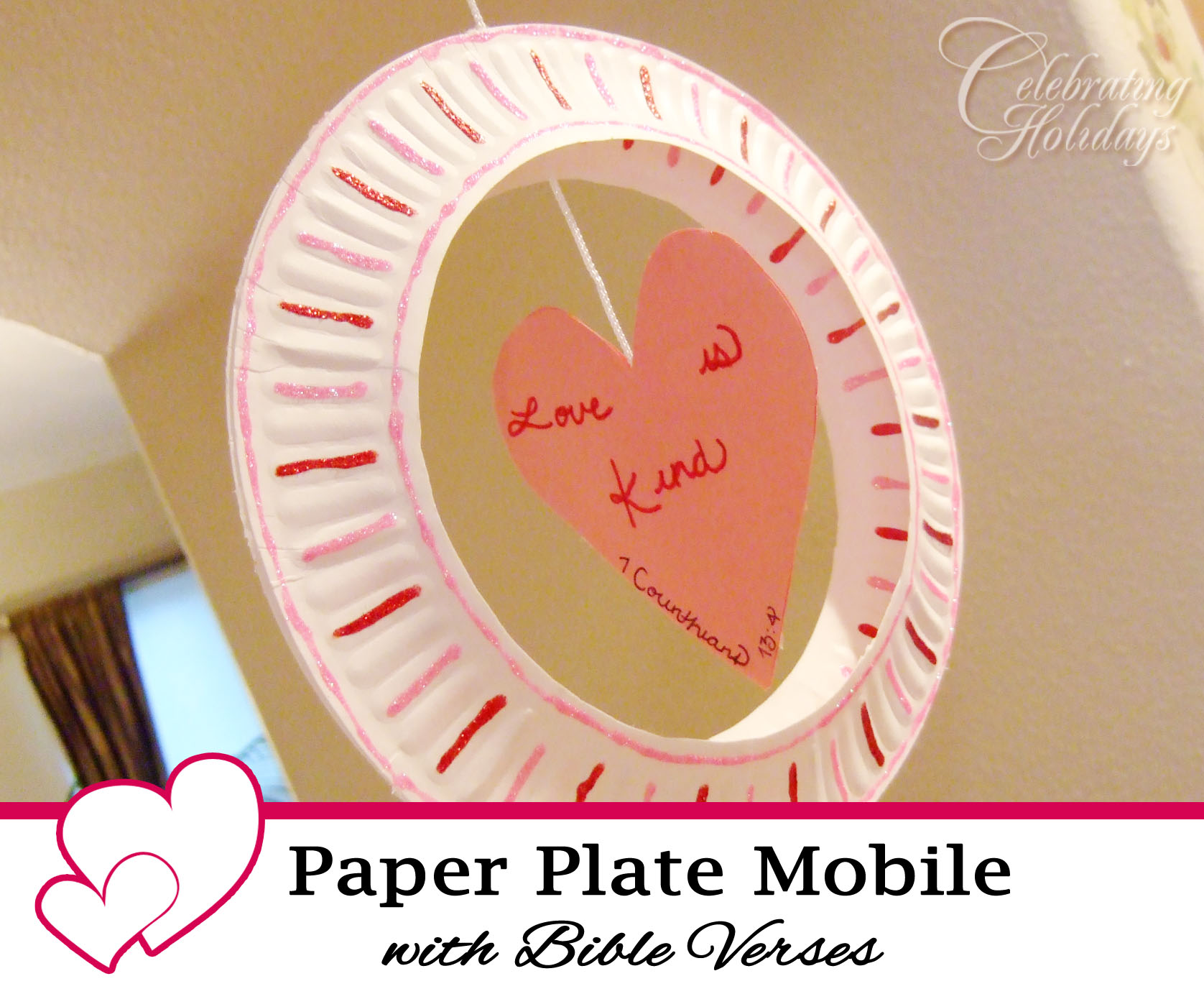 Go Along Bible Verse: 1 John 2:4-5
3. God is Love Contact Paper Heart with Bible Verse
The instructions for this craft are not super specific, but there are plenty of pictures to guide you!
Try making an example craft so that kids can see the end result before they put it together. There are some pretty small hearts in this craft, so you could always use hearts that are a bit larger to save time cutting or just use paper squares for the middle instead of hearts.
You can find a more detailed example of this craft from Meaningful Mama HERE.
Go Along Bible Verse: 1 John 4:11
4. God's Love is So Big Heart Craft
You can find a printable cut-out pattern for this cute craft over at Early Learning Source. A great craft for preschoolers or toddlers (with help).
Go Along Bible Verse: Ephesians 3:18
5. Open the Eyes of my Heart
A simple craft when you're pressed for time. Perfect for preschool and kindergarten and a two year old could also do it with help. All you need is googly eyes, construction paper and some heart stickers. Find it at Catholic Icing.
6. Handprint Hearts
Making handprint hearts is messy but if you're prepared with a sink or wet sipes nearby, this fun craft is a good option for toddlers through first grade.
My favorite crafts that my children brought home as little kids were the ones with handprints, so this is a perfect opportunity to have the kids make a keepsake for their parents.
Here's a quick tutorial from Messy Little Monster. Instead of writing a poem at the bottom, you could have a Bible verse like "Let us love one another, for love comes from God; 1 John 4:7" or "For God so loved the world that He gave His only begotten Son; John 3:16".
You can find a version of this handprint art with a Christian poem HERE.
Go-Along Bible Verse: 1 John 4:7
7. God's Love Heart Bible Craft
This cute idea incorporates several Bible verses right into the craft. It has two steps and two different options within the craft, so it may be a bit time-consuming. If you have some helpers, it would work great for your classroom. All you need is white construction paper, tissue paper, and crayons. Find the instructions HERE.
Go-Along Bible Verse: 1 Samuel 16:7
8. Easy Valentine's Day Paper Chain with the Names of God
This was fun to make with my kids at home. We made 14 hearts that we'll use as a countdown to Valentine's Day. You may have to do this for two Sundays in a row, as it's a bit time-consuming (depending on how many hearts you make).
Find the detailed instructions for the Valentine's Day Paper Chain HERE.
Go-Along Bible Verse: 1 John 4:9
9. God Loves Me to Pieces
So simple and sweet, even for the littlest ones.
Find it HERE.
Go-Along Bible Verse: Jeremiah 17:14, the Message, says "God, pick up the pieces. Put me back together again. You are my praise!"
Valentine's Day Heart Crafts for Older Children
These ideas work well in your children's ministry if you are involving older kids. I've found that even my fourth grader enjoys doing crafty things from time to time, so don't leave them out of the Valentine fun :)
10. 1 Corinthians 13 Valentine's Day Heart Cut-outs
This craft involves making a book of hearts that turns like pages in a book with Scripture verses. I love the idea, but the website that made it unfortunately doesn't exist anymore. You can pin the idea HERE and if you're creative, you can hopefully figure out the steps. I think this is a great craft for older kids that can also be a keepsake.
Go-Along Bible Verses: 1 Corinthians 13:4-8
11. Fingerprint Heart Valentine's Day Tree
Like I said previously, I LOVE crafts with fingerprints and handprints! This Valentine's Day craft is a more time-consuming idea that works best for kids second grade and up. It's pretty detailed so you could have them make a smaller amount of fingerprint hearts if you're pressed for time.
Find details HERE.
Go-Along Bible Verse: Matthew 6:21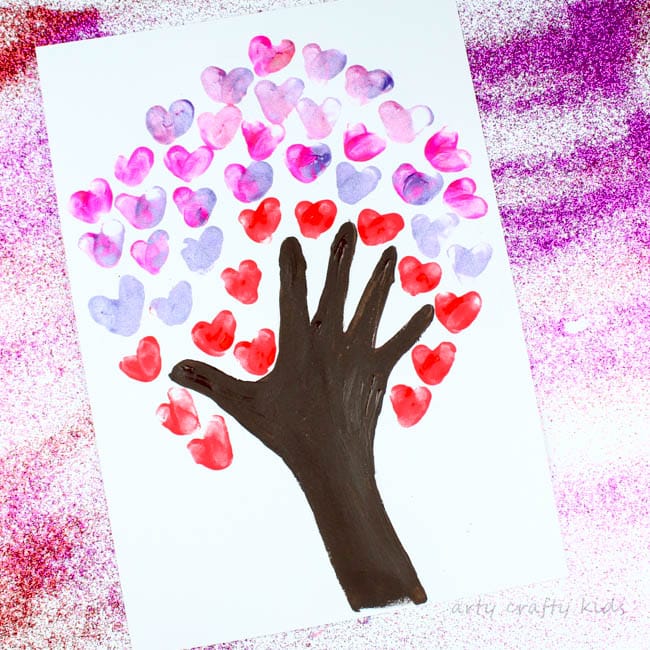 12. Easy Polkadot Heart Card
You could make this craft with younger children too, but it will probably look the most "refined" when an older child makes it :)
Inside the large heart, you can have the kids write a favorite verse about Jesus' love. Here is the tutorial for this craft.
Go-Along Bible Verse: Psalm 13:5
13. Bible Valentine's Day Craft
A more detailed version of the God is Love Contact Paper Heart I shared above that is not only a good craft but a great activity for teaching what the Word of God says about God's love for us. Check out Meaningful Mama's craft HERE.
Go-Along Bible Verse: 1 Chronicles 16:34
14. Painted Scripture Ceramic Hearts
You can paint some ceramic hearts and write Bible verses or Biblical encouragements on them with sharpie or paint them if you are teaching older kids who are very precise with paint!
Below you can see the ceramic hearts my daughters (13 and 8) painted to give away to grandparents. We bought ours at Target, and they came with paint and brushes, but you can find hearts on Amazon too.
Go-Along Bible Verse: Matthew 22:39
15. Salt Dough Scripture Hearts
If you want to do this at home with your own kids, or if you have two Sundays in a row where you can work on this craft, try making Salt Dough Scripture Hearts! Love this!
Find the instructions at This Pilgrim Life.
Bonus: Sunday School Free Lesson for Valentine's Day
An excellent lesson to go along with your heart craft is this one from Faith Sprouts called White as Snow.
At the end, kids create a white heart with glue and sparkles, which is a great craft for most ages as an object lesson on Jesus' love!
Here is a second idea: Valentine's Day Bible lesson on 1 Corinthians 13 with a "Valentine's Day mobile".
If you have time, incorporate some Valentine's Day coloring pages.
Enjoy using these Valentine heart craft ideas with your Sunday school students!
Printable Scripture Valentines
Just enter your email below and once you confirm your subscription, you'll be sent an email with your Valentines!