Fall is my favorite season of the year! And since Sunday school begins in the fall, it's the perfect opportunity to do fall-themed crafts at church with your preschoolers!
Here are 15 easy fall Sunday school craft ideas for preschoolers that I've rounded up from around the internet (and a couple I've created myself!)
Teach the story of Jesus and the important truths of God's Word by using one of these 15 fall Bible crafts (plus a bonus suggestion at the end!).
You aren't limited to using these with preschoolers, but this is a great age to start incorporating object lessons to teach Biblical stories and concepts!
Fall Sunday School Crafts for Preschoolers
1) Fall in Love with Jesus Handprint Craft
I love this sweet idea from Meaningful Mama! Makes for a great keepsake too. (Click HERE or the button below the image to go to the original post!)
2) Christian Pumpkin Windsock
Another great Christian preschool craft from Happy Home Fairy!
For this Christian Pumpkin Windsock, it may work best to cut out the pieces you need before Sunday school class starts and have a helper on hand to help preschoolers assemble this craft! Don't forget to paste the free printable poem on the back!
3) Thankful for Jesus Cross Craft
Find the instructions and printable HERE!
4) Ruth's Barley Threading Craft
This craft (instructions found HERE) would work best with older preschoolers (ages 4-5) with some assistance. Read the Bible story about Ruth while your classroom helpers assist your Sunday school kids with the craft!
5) Candy Corn Coloring Page
Print the original Candy Corn Coloring Page HERE!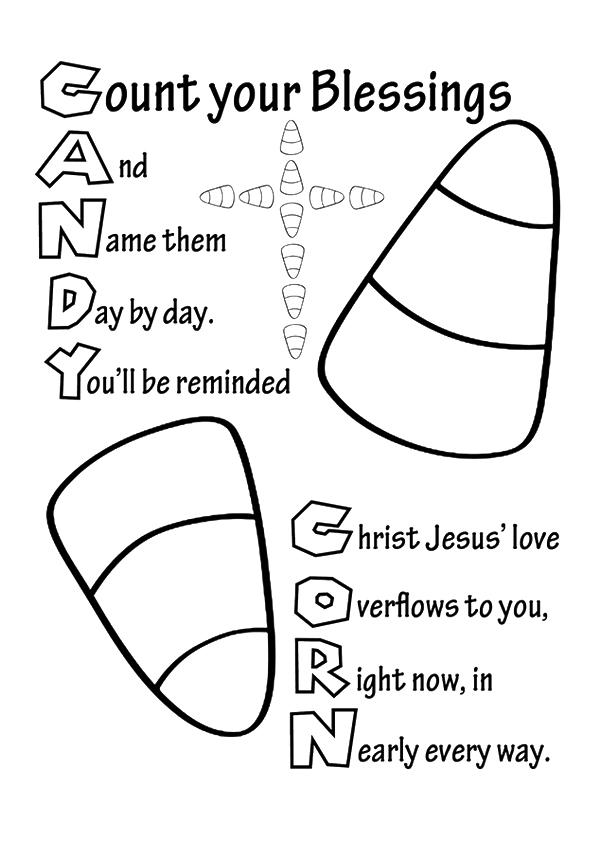 6) Shine with the Light of Jesus Pumpkin Craft
This craft a bit simpler version of the Pumpkin Windsock. The creator of this craft has great instructions on her page for how to do this easily with preschoolers!
Click HERE for the original craft instructions.
7) Thank You Lord for…Pumpkin Printable
My daughter and I did this craft last fall, it is great for teaching thankfulness to preschoolers! Cut out the pumpkin (and possibly the pictures) ahead of time and then have the kids color the pumpkin.
Hold up each little picture and let them name each object as something they can be thankful for. Have the children think of other things they can praise God for…family, house, pets, etc, and say them out loud!
Read the verse Psalm 9:1, "I will give thanks to you, LORD, with all my heart; I will tell of all your wonderful deeds."
You can glue the edges of the front piece of the pumpkin to the back piece to make a pocket or use little Velcro circles, like we did! See photos below.
8) Joseph in Egypt Bible Lesson and Craft
Love this idea! Find the details at the Family Abounds blog!
9) I am the Vine, you are the Branches Pumpkin Print
This craft is designed for the family to do, but you could easily adapt this pumpkin print craft for preschoolers at Sunday school! Instructions HERE. Teach them John 15:5 Bible verse too!
10) Candy Corn Salvation Craft
I couldn't find the instructions for this craft, just a photo uploaded to Pinterest, but it's pretty easy to figure out what to do!
Looks like you paint the child's four fingers but leave out the thumb in a candy corn "pattern" and then have them stamp three times on a paper. You could laminate the pages after everything dries too.
11) Christian Candy Corn Poem Printable
Many years ago, I received a bag of candy corn with a cute poem attached.
I've created my own printable for it that you can use as a fun "take home" treat for your Sunday school kids! They can make some during class, too, to pass out to friends and family! 
Just click HERE or on the image below to open up a downloadable PDF.
12) Ten Little Pumpkins Poem (Christian Version)
I found this poem at The Scripture Lady website. It is the Christian version of the "Ten Little Pumpkins" fall finger play for preschoolers. This would be a great poem to teach your Sunday school students and then have them paint a pumpkin during class time!
Ten little pumpkins sitting on their posts.
Each wants to shine its light the most.
The first little pumpkin on the outside looks sad.
But he knows when Jesus lives inside, he's oh so glad.
The second little pumpkin is winking at you.
He hopes that Jesus lives inside of you too.
The third little pumpkin got mad and sinned.
But he told God he's sorry and God still loves him.
The fourth little pumpkin is tired indeed.
So he reads God's Word to get the strength he needs.
The fifth little pumpkin had a contented face.
'Cause he knew God would put him in the right place.
The sixth little pumpkin was mighty surprised.
When he learned that Jesus loved him and for him he died.
The seventh little pumpkin had a smirk and smile.
He liked the face God gave him. It gave him lots of style.
The eighth little pumpkin was confused. It's true.
Why wouldn't all his friends love Jesus? Do you?
The ninth little pumpkin was afraid and scared.
But then he remembered how much God cared.
The tenth little pumpkin was filled with joy.
And hopes you'll also shine for God whether you're a pumpkin, girl or boy.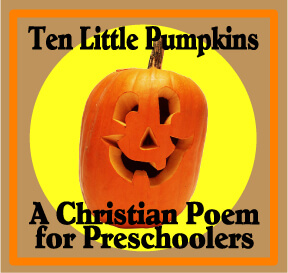 You can purchase downloadable posters for this poem at her website!
13) Fall Bible Verse Coloring Pages
I love the coloring pages from Christian Preschool Printables! Scroll down this page and search her site to print out individual fall-themed Bible verse coloring pages for your kids!
14) Jesus "Cleans" Our Hearts Activity
Use this Clean the Pumpkin activity from Busy Toddler to illustrate how Jesus cleanses us and makes us "white as snow", while reading with them the Bible verse Isaiah 1:18: "Come now, let us settle the matter," says the Lord. "Though your sins are like scarlet, they shall be as white as snow; though they are red as crimson, they shall be like wool.
15) Pumpkin Bible Craft
I love this easy, visual reminder of how children can give thanks to God! Great for decoration too. You may need to assist some of the younger children with putting it together :) Click HERE for directions!

Bonus: Pumpkin Patch Parable Activity Pack
The Pumpkin Patch Parable by Liz Curtiss Higgs is my favorite fall themed book to read to teach my children Bible verses about salvation!
I created a downloadable activity pack so you can read and teach Bible lessons from this book to your Sunday school class (and your children) too!
Make the season of Thanksgiving richer with 24 Days of Psalms of Thanks!