What does the Bible say about God's love for me? Where can you find verses about love in the Bible? Get the answers in this post.
---
Some of the best Valentine's Day Bible verses are about God's love for us.
One of the best parts of Valentine's Day is that as Christians we can share about how much God loves us, since "love" is already on people's minds.
The love of the Lord surpasses human love–it is complex and multi-faceted. Honestly, God's love is NOT what some people think it is!
I wanted to share some of my favorite verses about Jesus' love for us–I've been thinking on these a lot lately, because God's view of love is so different from what the world says it is. I think it's important that as Christians we go to the Word for a solid understanding of who God is and what His love really means.
11 Bible Verses About God's Love for Us
Scripture tells us that God loves us, no matter what. Even though we sin, His love and mercy are unfailing and unconditional because of Jesus.
Keep reading to learn these encouraging Bible verses about God's love for us!
"But God demonstrates His own love toward us, in that while we were yet sinners, Christ dies for us." Romans 5:8
"I have been crucified with Christ; and it is no longer I who live, but Christ lives in me; and the life which I now live in the flesh I live by faith in the Son of God, who loved me and gave Himself up for me." Galatians 2:20
"But God, being rich in mercy, because of His great love with which He loved us, even when we were dead in our transgressions, made us alive together with Christ (by grace you have been saved)." Ephesians 2:4-5
"The Lord your God is in your midst, a victorious warrior. He will exult over you with joy, He will be quiet in His love, He will rejoice over you with shouts of joy." Zephaniah 3:17
"Give thanks to the God of heaven, for His lovingkindness is everlasting." Psalm 136:26
"See how great a love the Father has bestowed on us, that we would be called children of God; and such we are. For this reason the world does not know us, because it did not know him." 1 John 3:1
"We love because He first loved us." 1 John 4:19
"Greater love has no one than this, that one lay down his life for his friends." John 15:13
"The Lord appeared to him from afar, saying, 'I have loved you with an everlasting love; Therefore I have drawn you with lovingkindness." Jeremiah 31:3 
"But when the kindness of God our Savior and His love for mankind appeared, He saved us, not on the basis of deeds which we have done in righteousness, but according to His mercy, by the washing of regeneration and renewing by the Holy Spirit." Titus 3:4-5
"For those whom the Lord loves He disciplines, and chastises every son whom He receives." Hebrews 12:6
"But just as it is written: 'Things which eye has not seen and ear has not heard, and which have not entered the heart of man, all that God has prepared for those who love Him.'" 1 Corinthians 2:9
There is no fear in love. But perfect love drives out fear because fear has to do with punishment. The one who fears is not made perfect in love. 1 John 4:18-19
---
Teach your children about God's Love with the Countdown to Valentine's Day Scripture Learning & Devotional Activity Pack!
The Countdown to Valentine's Day Printable Scripture Activity Pack is PERFECT for families with kids who are preschoolers to upper elementary!
It includes:
14 Scripture Hearts (with Bible verse references)
14 Devotional Conversation Cards to match the Scripture Hearts
Scripture Notecards (to print and laminate if desired–would make a cute gift too!)
2 Valentine Themed coloring pages and Love One Another coloring activity
Word Find, Matching Game, Bookmarks (could use as Valentines at school!) and Scripture copywork pages (same verses as the hearts, each verse is typed out in a mix of KJV and ESV for your children to write out)
From February 1-14, read a Scripture from one of the hearts each day and then hang it on a "homemade" Valentine's tree (pictured below) or make a banner and hang in your house! Then cut out the Scripture cards and devotional "conversation cards" and use them each day to reinforce the Bible verses and help your child understand how God's love is personal to their own life!
The rest of the printable activities will help reinforce these biblical ideas in a fun and colorful way :)
At the end of 14 days, you will have a beautiful reminder of God's love on display, plus your kids will have these Bible verses hidden in their hearts to remind them how much they are loved by Jesus!
This is what we did with our Scripture hearts two years ago, and now I put it up every year: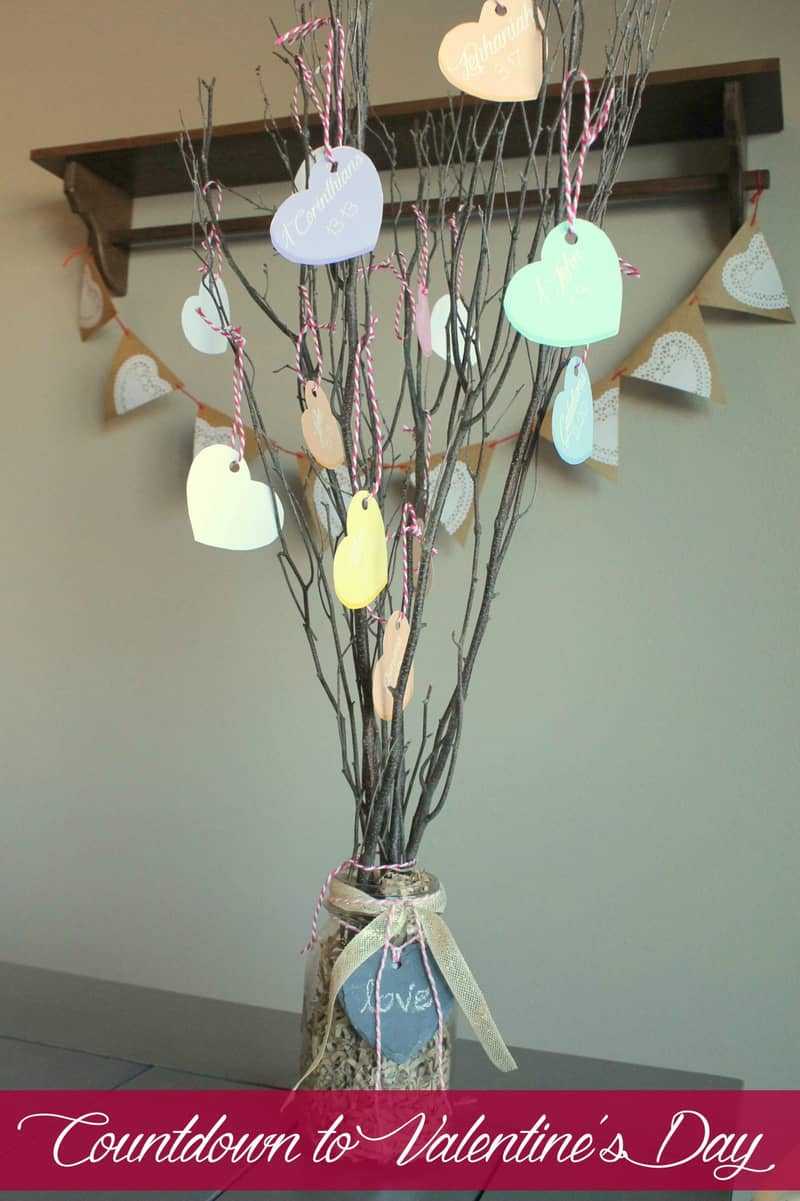 Get ready for February 1–it's coming soon! ;)
You can find Countdown to Valentine's Day in our online shop by clicking the button below or clicking HERE.
Printable Scripture Valentines
Just enter your email below and once you confirm your subscription, you'll be sent an email with your Valentines!