If you're looking for some simple and biblical activities for your toddler to do during Lent, you've come to the right place.
Lent is a special church (Liturgical) season where we spend the 40 days (not counting Sundays) from Ash Wednesday, which is the first official day of Lent, to Holy Saturday, the day before Easter, remembering Jesus' suffering and death. 
The Lenten season is a fantastic opportunity to teach even your one, two and three year olds about how much Jesus loves them and tell them the salvation story in a way that is meaningful and personal. 
Here are 10 simple activities you can do with your toddler to celebrate Lent.
10 Toddler Lent Activities for Ages 2 and 3
1) Ash Wednesday Popsicle Stick Crosses
On Ash Wednesday, many people attend church and have their foreheads anointed with ashes in the shape of a cross to show that we realize we are "only but dust" as Genesis 3:19 says. It symbolizes an act of repentance. 
Read your toddler the Bible verse from Ecclesiastes 3:20, "All go to the same place; all come from dust, and to dust all return."
Your child may not comprehend what it means just yet, but it teaches them that we are in need of Jesus. Also read John 9:1-7 to share how Jesus forgives us and makes us whole again.
Then enjoy a fine motor activity by making some crosses with popsicle sticks and glue them to a piece of purple construction paper (the color of Lent). You could also make crosses with yarn.
Original idea courtesy of Everything is God's Gift blog.
2) Grow a Resurrection Garden During Lent
You can find detailed instructions for this resurrection garden activity over at Confessions of a Homeschooler. You will need to start this project at the beginning of Lent and will see it sprout throughout the season. So fun for toddlers to watch things grow and use it as a reminder of how Jesus helps our faith grow!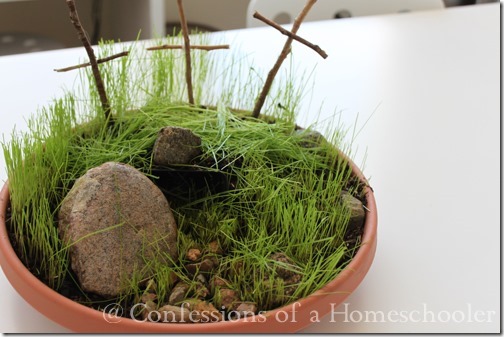 3) Lamb of God Craft with Cotton Balls
This is a great fine-motor craft for toddlers–plus they can use cotton balls and glue–what fun! 
Simple Instructions for Lamb of God cotton ball craft:
1. Print out the lamb template (best on cardstock). You can leave it as-is or cut it out and paste the lamb on a paper plate.
2. Using a small puddle of elmer's glue, dip each cotton ball in the glue and place on the lamb, filling it up with cotton balls. 
3. Read the Bible verse John 1:29, "The next day he saw Jesus coming toward him, and said, "Behold, the Lamb of God, who takes away the sin of the world!" Share with your toddler that Jesus died for us and takes away our sin. 
You can find the printout for this craft on my blog HERE. Please feel free to use for as many children as you'd like.
4) Jesus Heals Craft for Toddlers
To help explain what Jesus' death means for your toddler personally, have them complete this hand-tracing "Jesus Heals" craft. 
Then you can read the story from the Beginner's Bible (if you have it) about Jesus death on the cross.
5) Read Easter Books to Your Toddler
I actually think it's a good idea to wait until nearly Easter Sunday to read books about the joy of the resurrection. Why? Because the purpose of Lent is to focus on Jesus' suffering.
Although that might seem like a big concept for toddlers, you can set the stage in the simple ways I've shared to help them understand the solemn season of Lent, all leading to the excitement of Easter morning!
Once you do read Christian books about Easter for toddlers, here are my suggestions:
6) Make Soft Pretzels and Practice Prayer
Tradition says that soft pretzels were first made in Italy by monks and given to school children to remind them to pray. Some stories say that monks also gave these away to poor people, as a way to physically and spiritually feed them.
You can tell your toddler this story if you'd like while you bake some soft pretzels as your own reminder to pray during Lent. Then take some time to teach your child to pray! 
7) Have your Toddler do an Act of Service During Lent
Almsgiving, whch is traditionally practiced during Lent by those of the Catholic faith, is an act of giving food or money to the poor. You can do this with your toddler quite easily by letting them put money in the offering plate at church.
You can also show your toddler how they can share what they have with others through an act of service. Some ideas would be:
Having your toddler give a hug
Sending a card to a loved one with a picture or verse about Jesus
Sending a video message to a far-away family member
Helping a sibling or parent at home with a chore
Shopping with your toddler for gifts for a children's home
8) Make "Crown of Thorns Bread"
Baking a crown of thorns out of bread is a special way to get your toddler in the kitchen with you and also to help them understand the Bible account about Jesus' death. You can serve Crown of Thorns Bread with dinner on Ash Wednesday or Good Friday.
To explain why you make this bread, read the Bible verse Mark 15:17, "They dressed Him up in purple and after twisting a crown of thorns, they put it on Him." 
Then explain to your toddler that the crown of thorns was what Jesus wore when He died on the cross. Share that Jesus was willing to do this even though it was hard because He loves us so very much. 
Find the directions over at Catholic Icing.
9) Make a Palm Sunday Branch
Trace your toddler's hand to make a Hosanna Branch to celebrate Palm Sunday! This would also be fun as a toddler Sunday school craft.
Find the craft at Mommy Snippets.
10) Resurrection Rolls or Hot Cross Buns
Resurrection rolls and hot cross buns are classic treats to bake for Easter Sunday morning. Use them to tell the Easter story or read one of your Easter books to celebrate.
Find the recipe for Resurrection Rolls HERE.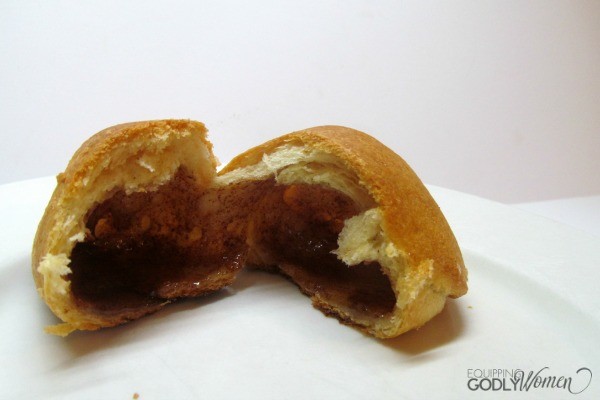 Find the recipe for Hot Cross Buns at AllRecipes.
Readers Ask…
How do you explain Lent to a child? 
When you're teaching a small child about Lent, keep it simple. 
This is how I talked to my toddlers about Lent:
I started by explaining that Lent is a special time that we think about and learn about what Jesus did for us by dying on the cross. 
There is a special day called Ash Wednesday when Lent starts. Sometimes people get a cross marked on their foreheads (point to forehead) to remember that we need Jesus' love and help.
Jesus knew that He had to go to the cross to die for our sins. It was a sad time, but Jesus did it because He loved us so much.
At the end of Lent, we have the Resurrection, when we can be joyful because we know that Jesus came alive again! 
We would do activities and go to an Ash Wednesday service (Catholic churches are the best place to attend one, but you can also find them at some protestant churches). 
We would read stories from the Beginner's Bible (Jesus is Arrested and Crucified and Jesus is Risen) or the Jesus' Storybook Bible to gently explain the crucifixion and resurrection.
I hope these ideas are helpful as you celebrate Lent with your family!
More Lent ideas for your family…
Click on the links below.
40 Day Lenten Printable Prayer Chain
10 Ways to Celebrate Lent with Your Family
7 Lenten Devotionals for the Whole Family
40 Day Lent Bible Reading Plan – Gospel of Mark
50+ Christ-Centered Easter Basket Ideas
WANT TO SPEAK WITH GRACE TO YOUR KIDS INSTEAD OF YELLING?