I'm sitting on my bed, Bible in my lap. My husband is gone at a meeting and the children are in bed. I sigh, consumed with thoughts of a situation that has proven to be too difficult for me to handle. There are no easy answers to my questions and things just don't make sense.
When I read a verse like, "Trust in the Lord with all your heart and lean not on your own understanding," it just rolls around in my mind but never settles in to give me peace. Which causes me to ask once again…
Why can I trust God?
Trusting God has been on my mind a lot lately and I'm failing miserably at it. While I know God is trustworthy, I worry much about whether other people will get in the way of God's plans or render him incapable of accomplishing His will.
While I know this is a lie of the devil, some days I can't get it out of my head.
But as I look through my worn Bible, verses and passages that I have marked during past moments of distress jump out at me.
Deuteronomy 1:30-33, when the Israelites are wandering through the wilderness: "The LORD your God, who is going before you, will fight for you."
Psalm 9:10 tells me that God has "never forsaken those who seek" Him.
Psalm 46:1-2, "God is our refuge and strength and very present help in trouble."
The Lord is our shield, defending us from the things in life that threaten to crush us. His Word and His promises never fail and His faithfulness is new every morning.
The LORD is my strength and my defense;  he has become my salvation. He is my God, and I will praise him, my father's God, and I will exalt him. Exodus 15:2, NIV
And then I wonder, how do I trust God?
"Commit thy way unto the Lord; trust also in him; and he shall bring it to pass." Psalm 37:5, KJV
"But I trust in you, O Lord, I say, 'You are my God'. My times are in your hands." Psalm 31:14-15
"Who among you fears the Lord and obeys the word of his servant? Let him who walks in the dark, who has no light, trust in the name of the Lord and rely on his God." Isaiah 50:10
"Wait for the Lord and keep His way." Psalm 37:34
"I remember the days of long ago; I meditate on all Your works and consider what Your hands have done." Psalm 143:5
"O Lord, You are my God. I will exalt You, I will give thanks to Your name; for You have worked wonders, plans formed long ago, with perfect faithfulness." Isaiah 25:1
The answers I find in these familiar Scriptures give me peace, even if it's just for the night, once again.
And so I press on, one day at a time, fighting the good fight, until God will one day weave together my cautious, tentative hopes and prayers into something "exceedingly abundantly beyond all that I can ask or think."
As my wise husband said to me,
"If God couldn't work through people's failures or disobedience, then He wouldn't be much of a God."
So I wanted to share this with you. I hope that you can find rest and peace in these truths. 
Write these down on notecards if you want and put them up around your house. The best way to defeat Satan is through the Word of God.
You may also like: The Problem with Trusting God
10 Printable Bible Verse Cards on Trusting God
I've designed 10 5×7 notecards with these verses I've shared above for you to print and keep at home as a reminder of God's trustworthiness!
Share them with a friend if you know another mom who could use some encouragement too!
The Daily Grace, my favorite online shop for Bible studies, kids devotional resources, and other amazing things to encourage and equip your family's faith, is having an Early Black Friday Clearance Sale!
You can get 30% – 80% Off Storewide, No Code Needed!
Snag some amazing Christmas gifts (and maybe something for yourself!) during this sale.
Get FREE domestic Shipping on orders of $75 or more.
Start Shopping….HERE!
Maybe you want this coffee tumbler below…who doesn't need the reminder that "it is well with my soul" right now? :)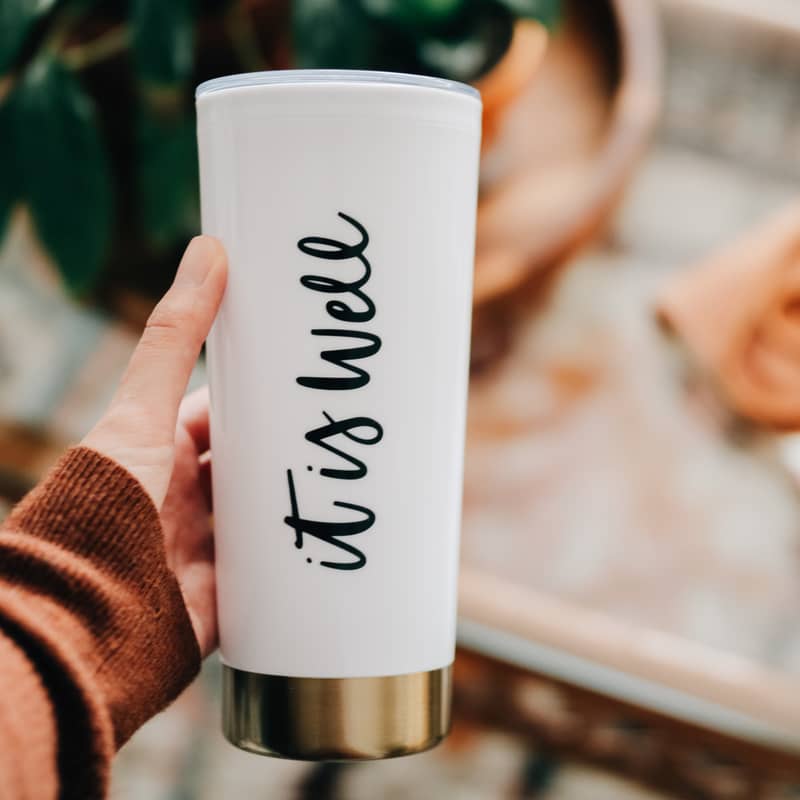 I'd love for you to subscribe to the blog to get access to our other resources that will encourage your faith and help you teach your kids about standing on God's Word!
Enter your first name and best email in the box below this post or CLICK HERE! 
(Your information is 100% safe with us and we'll never spam you, just send you helpful tips and resources for your Christian family!)